We at the Feather Brigade headquarters spent the previous week feverishly praying to the rain gods and worshiping Milky Joe, the crocheted monkey of weather (see above), to ensure a nice day for Sunday, which just happened to be Halloween, which just happened to be HalloWheel. We stopped short of sacrificing babies and kittens, but thankfully the gods were appeased anyway and although the day started a little hazy and grey, we had a marvelously sunny day down at the park.
We pulled out our fancy dress finery, K-star dressed as a cult leader, I was channeling Picnic at Hanging Rock, and we headed into Darling Harbour.
Our cycling superstars of the day were Kerry and Garry. Their efforts put our fancy dress to shame. Not only did they bring along brilliant costumes, but both of their bikes were dressed for the occasion too.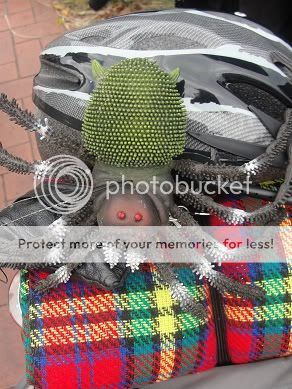 We hung out at Pyrmont Bridge for a bit, talked to a few other cyclists and basically became a tourist attraction for the hoards doing the Seven Bridges Walk (all of the random strangers out there with a picture of us from the day, I urge you to use the photographs only for the forces of good- not that I know how you'd use them for evil, but still...)
We had a slow cruise along the wharves and parks in Pyrmont and Glebe and made it to the park as the sun came out for us. We met up with all the non-wheeled HalloWheel peeps, threw down the picnic blankets and while most of us snacked on strawberries and cheese, K-star got a little more into character.
It was a lovely day with lovely people. Hanging out at the park in the sun with friends, I can't think of a better way to spend the day. We'll definitely be inviting everyone to another HalloWheel next year (and hopefully hold another fancy-dress ride before that too- we love any excuse to dress-up)
We had a quick photo with Kerry and Garry before they headed off, and I want to say thanks to both of them!
We kept the HalloWheel spirit alive even when the picnic was eventually packed up. At home we decided to share the Halloween love with our neighbors and "haunted" them with a little crocheted ghost and handmade sign lowered past their windows.
Oh, Halloween, giving us an excuse to dress-up, eat lollies, and annoy our neighbors. I think it may be one of my favourite holiday.